U.S.-Mexico Cooperation on Anti-Corruption: Opening a New Chapter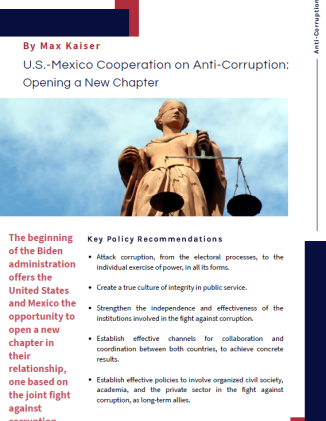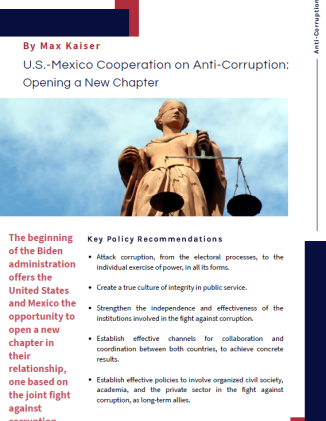 The beginning of the Biden administration offers the United States and Mexico the opportunity to open a new chapter in their relationship, one based on the joint fight against corruption. Millions of Mexicans and Americans would benefit enormously from a closer, more open, more permanent and more effective relationship on this issue. In fact, that new chapter already exists, within the text of the USMCA, the renegotiated and modernized version of the NAFTA, and the Biden administration should not fail to seize the opportunity to use it.
For the Biden administration, this is a clear opportunity to establish a new type of relationship with the Mexican government, one based on integrity and transparency, instead of obscure and secret political agreements. For President López Obrador's administration, it is the last chance to show that all those campaign promises to fight corruption were not just hollow electoral strategies. The North American governments must build a real relationship of productive collaboration, which generates more than just bilateral meetings where generic agreements are expressed, with little practical sense. Giving concrete results in the fight against corruption, through collaboration and coordination, can generate enormous political benefits for both administrations.
This policy brief is part of our series "Re-Building a Complex Partnership: The Outlook for U.S.-Mexico Relations under the Biden Administration." The policy briefs will be released individually and published as a volume in early 2021. 
About the Author
Max Kaiser
Chairman, Anti-Corruption Commission, COPARMEX; Founder,  Center for Integrity and Ethics in Businesses (CIEN)
Read More
---
Mexico Institute
The Mexico Institute seeks to improve understanding, communication, and cooperation between Mexico and the United States by promoting original research, encouraging public discussion, and proposing policy options for enhancing the bilateral relationship. A binational Advisory Board, chaired by Luis Téllez and Earl Anthony Wayne, oversees the work of the Mexico Institute.  Read more