Revitalizing North America: A Shared Prosperity Agenda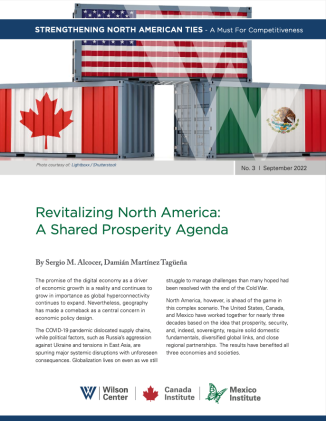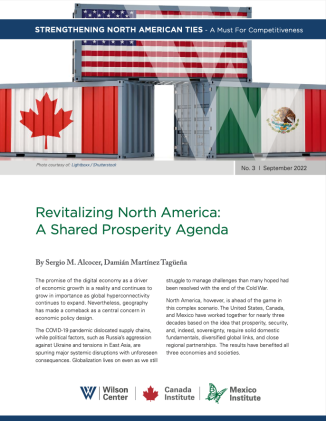 The promise of the digital economy as a driver of economic growth is a reality and continues to grow in importance as global hyperconnectivity continues to expand. Nevertheless, geography has made a comeback as a central concern in economic policy design.
The COVID-19 pandemic dislocated supply chains, while political factors, such as Russia's aggression against Ukraine and tensions in East Asia, are spurring major systemic disruptions with unforeseen consequences. Globalization lives on even as we still struggle to manage challenges that many hoped had been resolved with the end of the Cold War.
This essay is part of the series, "Strengthening North American Ties - A Must For Competitiveness," by the Wilson Center's Mexico and Canada Institutes. 
---
Mexico Institute
The Mexico Institute seeks to improve understanding, communication, and cooperation between Mexico and the United States by promoting original research, encouraging public discussion, and proposing policy options for enhancing the bilateral relationship. A binational Advisory Board, chaired by Luis Téllez and Earl Anthony Wayne, oversees the work of the Mexico Institute.  Read more
Canada Institute
The mission of the Wilson Center's Canada Institute is to raise the level of knowledge of Canada in the United States, particularly within the Washington, DC policy community.  Research projects, initiatives, podcasts, and publications cover contemporary Canada, US-Canadian relations, North American political economy, and Canada's global role as it intersects with US national interests. Read more