Polar Perspectives No. 6 | The Last Frontier From Space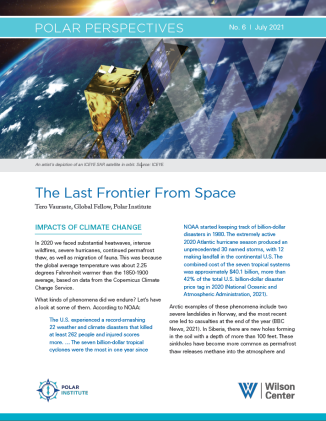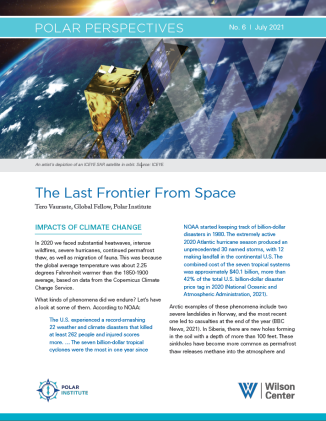 Humans have launched approximately 10,000 satellites into space since 1957, of which 1,000 are used for Earth observation and scientific purposes. Space activity has increased rapidly as more nations and private companies launch new satellites. At the same time, the globe has experienced unprecedented numbers of extreme weather events either directly or indirectly related to climate change in 2020 and 2021. 
In the sixth edition of Polar Perspectives, Mr. Tero Vauraste, Global Fellow, Polar Institute, Wilson Center, explores the potential  benefits of synthetic aperture radar (SAR) data and other "solutions from space" in monitoring and observing Arctic environmental change. Regardless of dark Arctic winters or the presence of clouds, emerging technologies like SAR make data available to researchers, governments, authorities, and commercial users for better and quicker decision-making and risk management. 
About the Author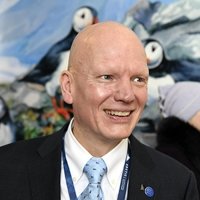 Tero Vauraste
Global Fellow, Polar Institute;
Regional Director Europe and Senior Advisor, Iceye Oy, Chief Executive Officer, Mariadi Ltd; Arctic Circle Emissary; Member of the Board, Finnish Arctic Society; Advisory Board Member, Finnish Life Boat Institute    
Read More
---
Polar Institute
Since its inception in 2017, the Polar Institute has become a premier forum for discussion and policy analysis of Arctic and Antarctic issues, and is known in Washington, DC and elsewhere as the Arctic Public Square. The Institute holistically studies the central policy issues facing these regions—with an emphasis on Arctic governance, climate change, economic development, scientific research, security, and Indigenous communities—and communicates trusted analysis to policymakers and other stakeholders. Read more