Lessons Learned from State-Level Climate Policies to Accelerate U.S. Climate Action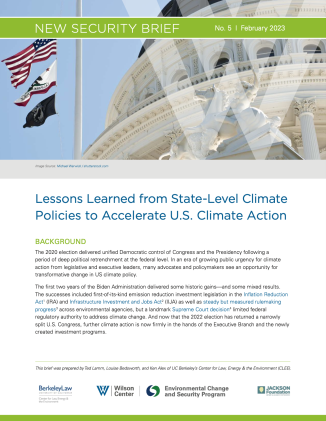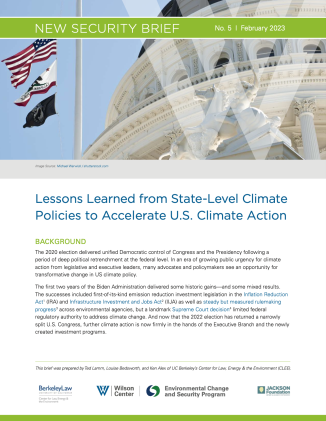 The 2020 election delivered unified Democratic control of Congress and the Presidency following a period of deep political retrenchment at the federal level. In an era of growing public urgency for climate action from legislative and executive leaders, many advocates and policymakers see an opportunity for transformative change in US climate policy.
The first two years of the Biden Administration delivered some historic gains—and some mixed results. The successes included first-of-its-kind emission reduction investment legislation in the Inflation Reduction Act (IRA) and Infrastructure Investment and Jobs Act (IIJA) as well as steady but measured rulemaking progress across environmental agencies, but a landmark Supreme Court decision limited federal regulatory authority to address climate change. And now that the 2022 election has returned a narrowly split U.S. Congress, further climate action is now firmly in the hands of the Executive Branch and the newly created investment programs.
These federal developments—unprecedented investments and limited regulatory action—increase the importance of activity at the state level. States, long the driver of climate action in the U.S., have continued to make steady progress even in the absence of comprehensive federal action. Progress at the state level has ranged from initial clean energy and climate action plans to ambitious new emissions reduction legislation and the first phaseout of gas-powered automobiles. In light of both the historic opportunities and challenges ahead at the federal level, these state climate policy experiences have the potential to accelerate federal action and investment.
To identify state lessons learned that also can inform federal climate policymaking, the Wilson Center's Environmental Change and Security Program (ECSP) and University of California, Berkeley's Center for Law, Energy and the Environment (CLEE), in partnership with the Henry M. Jackson Foundation, engaged state and federal leaders for a series of dialogues. This policy brief highlights the key findings from these discussions—and offers a set of strategies for state and federal leaders to make the most of new investments in climate action.
About the Authors
Ted Lamm
Senior Research Fellow, Climate at Center for Law, Energy & the Environment at Berkeley Law
Louise Bedsworth
Executive Director, Center for Law, Energy, and the Environment, University of California Berkeley
Ken Alex
Director, Project Climate, Center for Law, Energy, and the Environment, University of California Berkeley
---
Environmental Change and Security Program
The Environmental Change and Security Program (ECSP) explores the connections between environmental change, health, and population dynamics and their links to conflict, human insecurity, and foreign policy. Read more