Fentanyl Seizures at the Southwest Border: A Breakdown by CBP Areas of Responsibility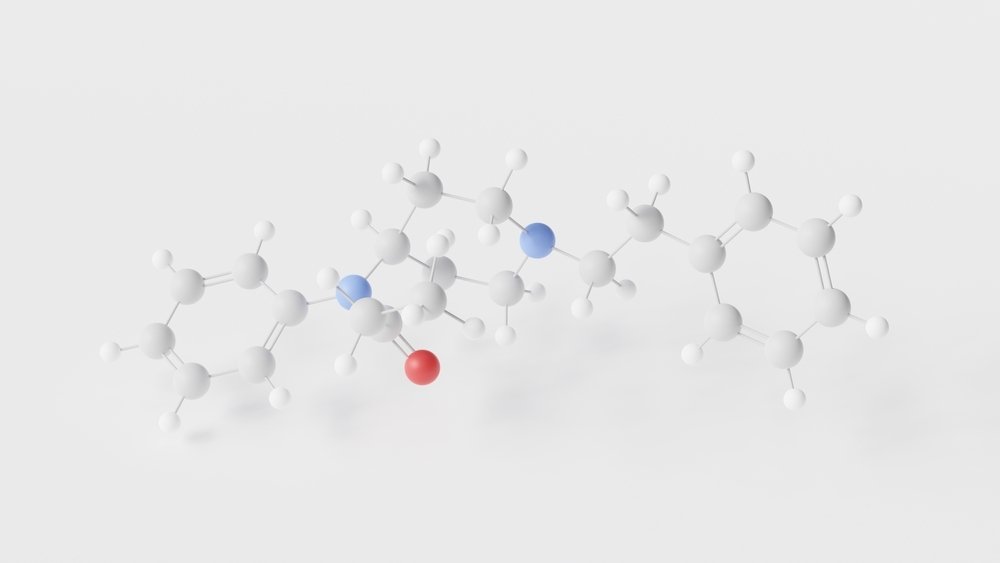 On January 9-10, 2023, President Biden, President López Obrador, and Prime Minister Trudeau, at the North American Leader's Summit, established the Trilateral Fentanyl Committee to develop a strategy in response to the threat of illicit fentanyl plaguing North America. Fentanyl is a synthetic prescription medication used to treat severe pain in patients. According to the National Institute on Drug Abuse, fentanyl is 50 to 100 times more potent than morphine.  Illicit fentanyl is being smuggled through and manufactured in clandestine laboratories in Mexico before reaching the United States. Mixing fentanyl with other drugs including heroin, methamphetamine, and cocaine, increases the likelihood of a fatal interaction. Just 2 milligrams of fentanyl, equal to 10 to 15 grains of table salt, is considered a lethal dose. 
Fentanyl seizures at the Mexico – U.S. border increased 164% from 2020 to 2022. Seizures in 2023 of 21,846 pounds (about 9909 kg) (FYTD) have already surpassed last year's 14,104 pounds (about 6397 kg). Most fentanyl seizures occur in the states of California and Arizona and both states have seen an increase in fentanyl seizures over the period of 2020 – 2023 (FYTD).   Seizures in Texas and New Mexico, on the other hand, are a fraction of the previously mentioned states and seizures in these states collectively, decreased from 2021 to 2022.   
The prevalence of fentanyl seizures in California and Arizona is linked directly to the dominance of the Sinaloa Cartel and the Jalisco New Generation Cartel in Baja California and Sonora, the two neighboring Mexican States.  New Mexico and Texas, on the other hand, border Mexican states where the previously mentioned cartels are not dominant. Cartels hire both Mexican and U.S. citizens to smuggle the easily concealable drug through ports of entry on foot and by passenger and cargo vehicles. This practice results in close to 90% of illicit fentanyl seizures  occurring at official border crossings, according to CBP. The DEA has named the two cartels as the major suppliers of fentanyl in the United States. 
The increase in fentanyl seizures at the Southwest border is not replicated in seizures of cocaine, heroin, or methamphetamine.  Cocaine seizures decreased slightly in 2022 over 2021 while heroin seizures decreased far more dramatically over the past two years from 5,157 pounds (about 2339 kg) in 2020 to 1,498 pounds (about 679 kg) in 2022. Methamphetamine remains the most seized drug with seizures along the southern border in 2021 of 182,561 pounds (about 82808 kg) and 160,305 pounds (about 72713 kg) seized in 2022. Seizures in 2023 (FYTD) suggest that fentanyl may surpass cocaine as the second most seized illicit substance at the Southern border.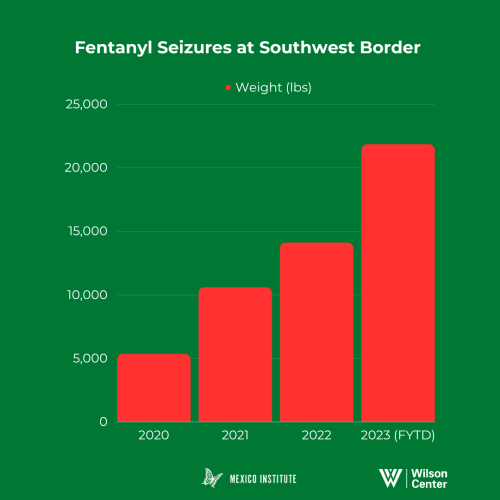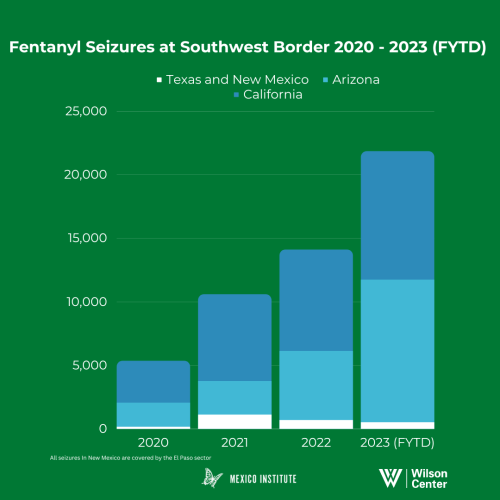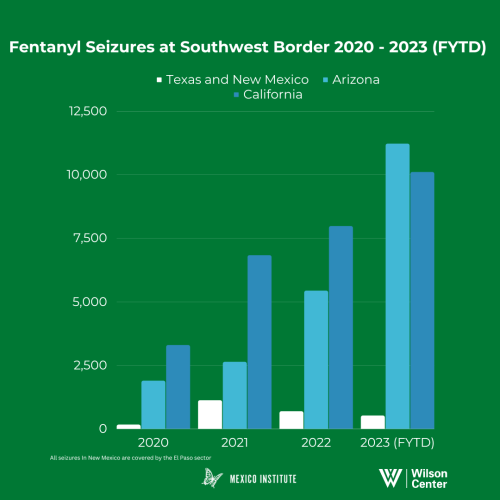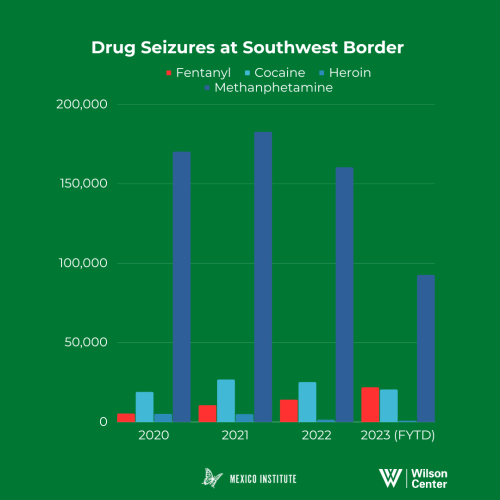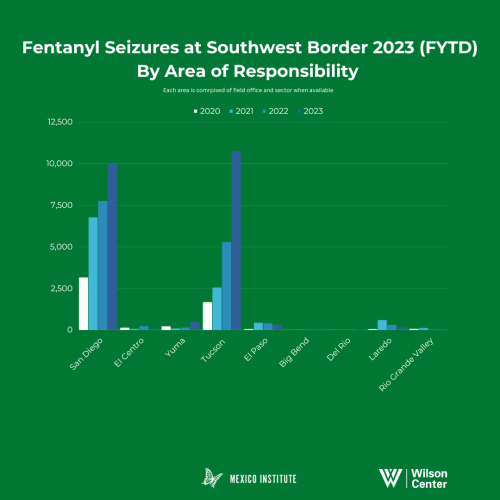 About the Author
---
Mexico Institute
The Mexico Institute seeks to improve understanding, communication, and cooperation between Mexico and the United States by promoting original research, encouraging public discussion, and proposing policy options for enhancing the bilateral relationship. A binational Advisory Board, chaired by Luis Téllez and Earl Anthony Wayne, oversees the work of the Mexico Institute.  Read more